9" 3 COMPARTMENT BAGASSE MEAL BOX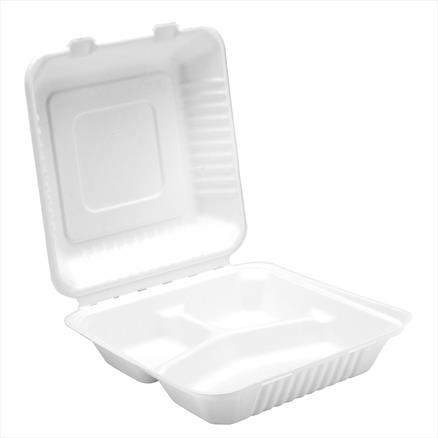 9" 3 COMPARTMENT BAGASSE MEAL BOX
Product Info
9" Bagasse clamshell meal box split into 3 compartments. These containers are disposable, compostable and biodegradable made from 100% sugarcane fibre. Suitable for hot, wet and oily foods.
Bagasse Boxes are a stylish, eco-friendly alternative to polystyrene. They work with hot and cold food as well as wet and oily dishes with ease. Manufactured from sugarcane, they are more rigid as a result and naturally compostable to make them more 'green' than most equivalent products. They are also microwave and freezer safe, making them a great all round product.
​An ideal choice for food on the go. A popular choice for outdoor events including food festivals, food markets, street food and mobile and outside catering.
Pack Quantity: 200